It's the break away time again. It's a long holiday break again in
Kelantan
,
in conjunction
with the state's Sultan Birthday, 2 days for the weekend and 2 days for public holiday. This time I brought the family to
Genting
Highland. We took the KB-
Jeli
-Banding-
Kuala
Kangsar
-
Ipoh
-
Tg
Malim
-
Batang
Kali-
Genting
Highland route. It's slightly further than the KB-
Gua
Musang
-
GH
route but I prefer this journey as you get to enjoy the scenery and stop over at
a few
big towns instead of all the long and winding road along the palm oil plantation road. A no no for me using that boring road as it makes my driving very sleepy.
It was a 3d/2N at
Genting
Highland. Our first day was mainly resting at the hotel room at First World Hotel., as we were quite tired after along journey. At night, we take time to explore the in-door theme park. Nothing much for us (my wife and me) and our 3 teen kids. We end up taking dinner and surfing net at the free
wifi
station at the Starbucks Cafe.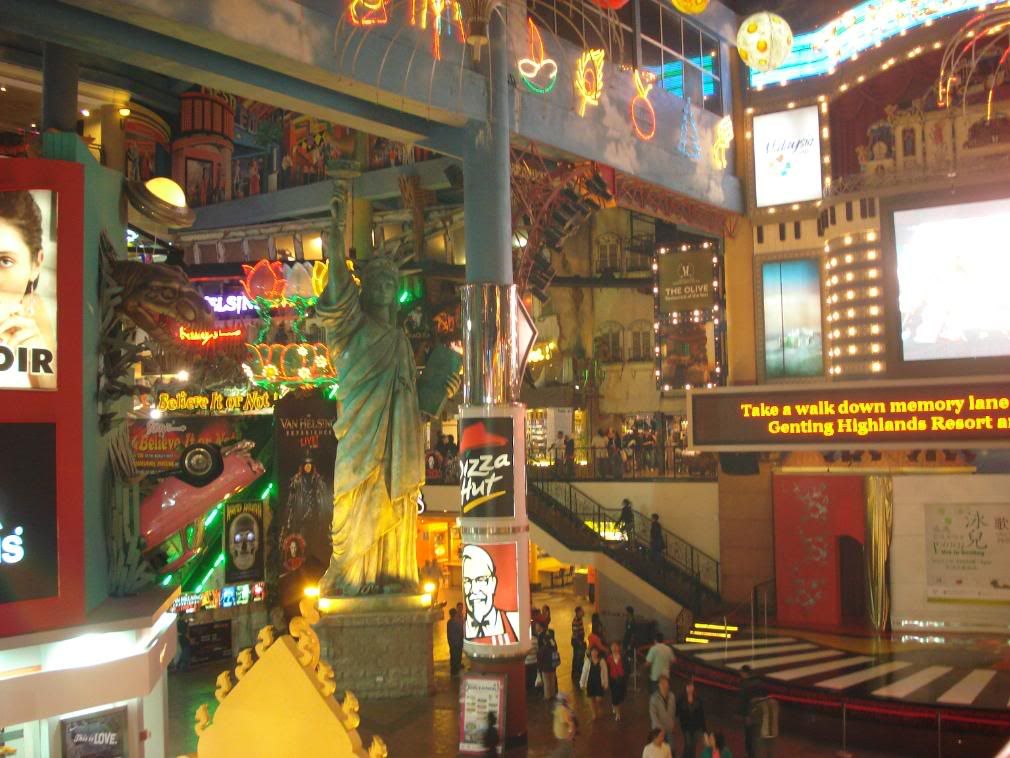 Everything at
Genting
is so expensive including food and tickets to the theme park. A plate of fried
mee
can cost you RM10.00 and a can of coke cost RM4.00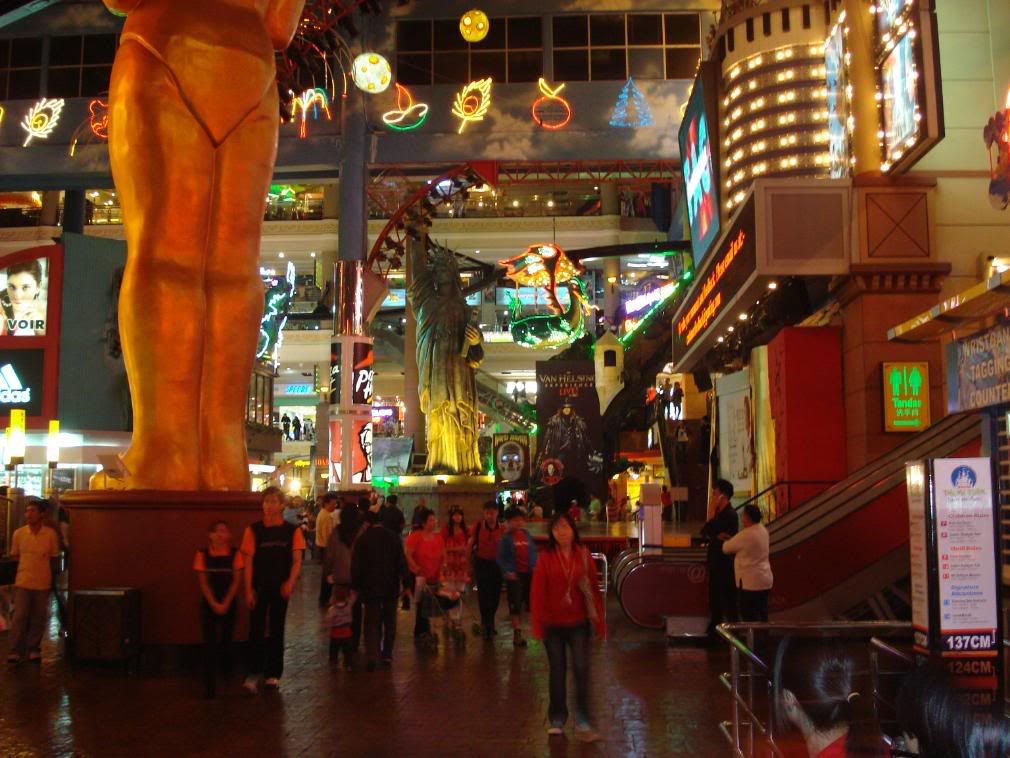 Not much fun for us
over here
at the indoor park. Most of the games are for younger kids, so we only try out the Euro Express for a start at RM8.00 per head, per game only. Well at least that will warm us up for the 1st night
over here
.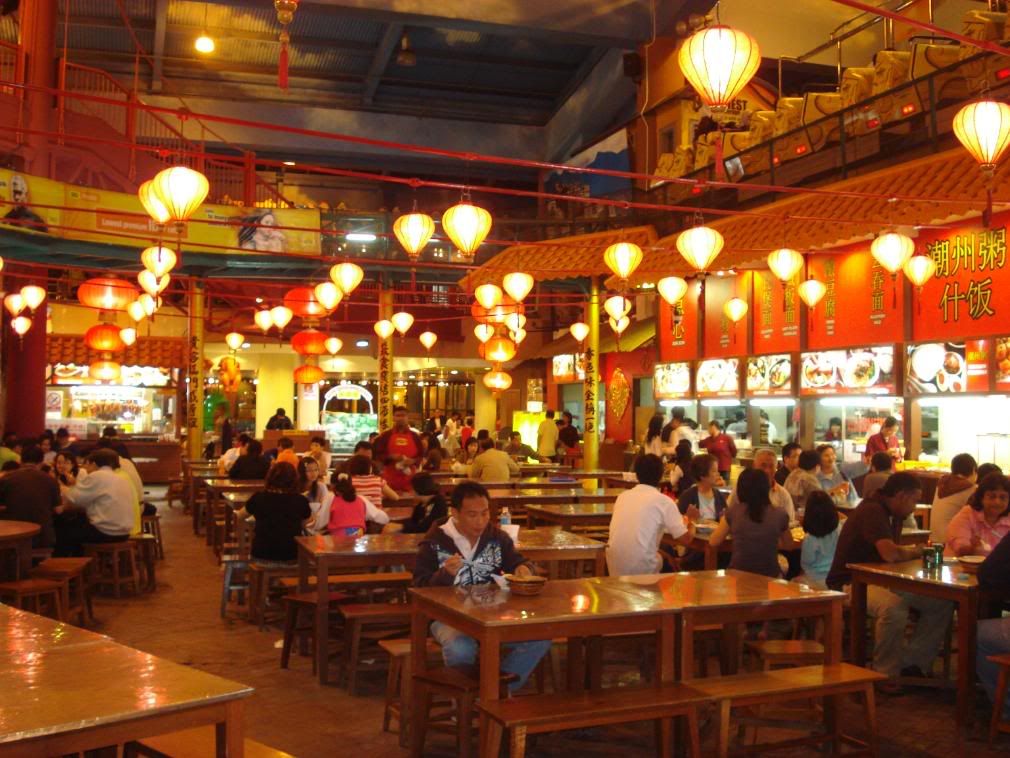 Since I don't like gambling, we didn't bother to visit the casino at all. We spent the rest of the night breathing fresh air at the
StarBucks
cafe, with 2 cups of Italian coffee (I can't even remember the name) and a piece of cheese cake at RM42.00 . But it's worth it as they do provide free
wifi
facilities.
The next morning right after breakfast, we head straight to the ticket counter to buy tickets for 5 at RM190.00 for the outdoor theme park. It's a Saturday, so they are open for fun from 9 am to 10pm.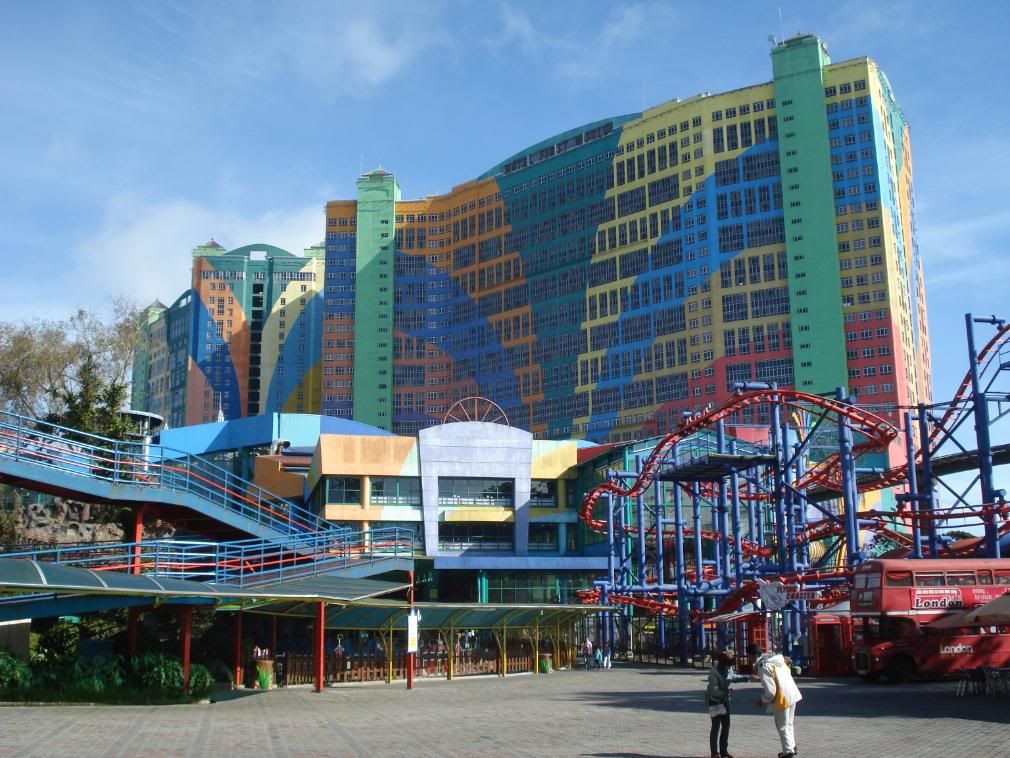 At the moment we got there, we don't want to waste any time.. we start off with the thrill rides The Pirate Ship, than
Cockscrew
, Cyclone, Flying Dragon..and many many more.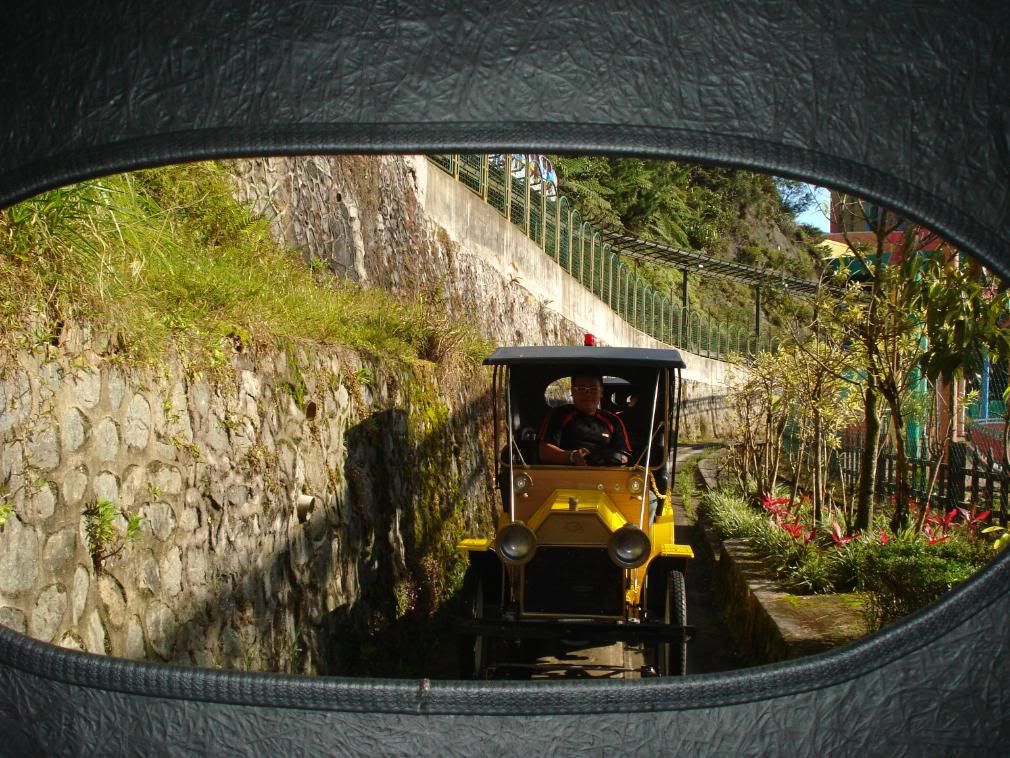 As for me, I get to snap plenty of photos.. non-stop using my compact Sony.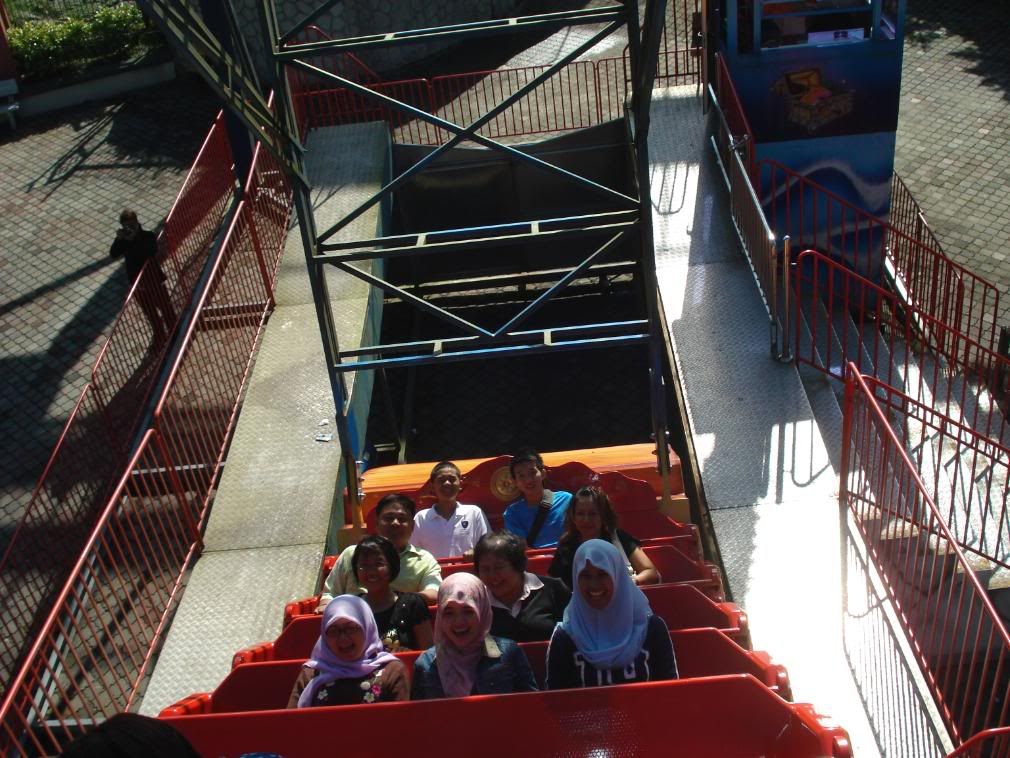 If you are really looking for remedies to release tension, this is the right place. Got fed up with your daily job or with your boss and want to
scream
it out ? This is the place. To release tension from all the exams
after
months of studies ? This is the place.
At my age, I can't be bother at all. I played most of the games as well.. and scream as much as I can..
haha
. As the saying goes, If you can't beat those youngsters, than just join them. Just enjoy playing the games with the kids.. and stay young and be happy while you can.
Some of the games are categorise as family rides, meaning you get to enjoy the games with the family at slower pace. Not so trilling and as exciting but you get to rest for a while and relax while moving on to the next trill rides. The boating, Mini train, Pirate train flying jumbo, Tea cup and monorail are just
a few
of them.
Can't stop
snapping
photos too..
One of my favourite is the Space Shot.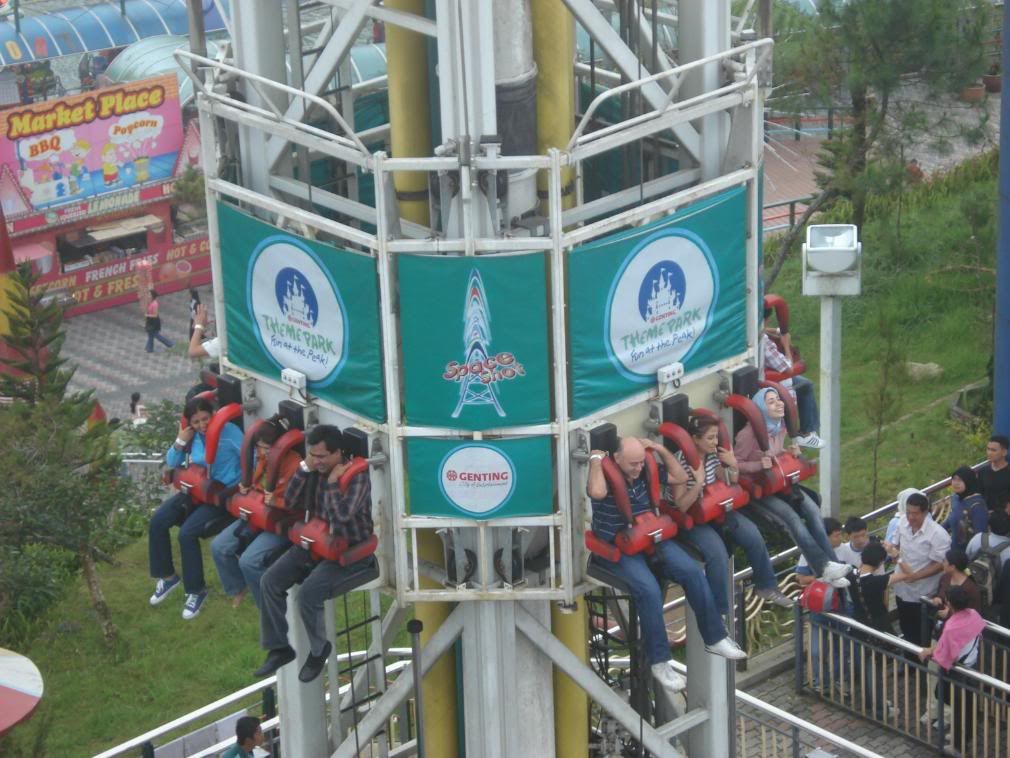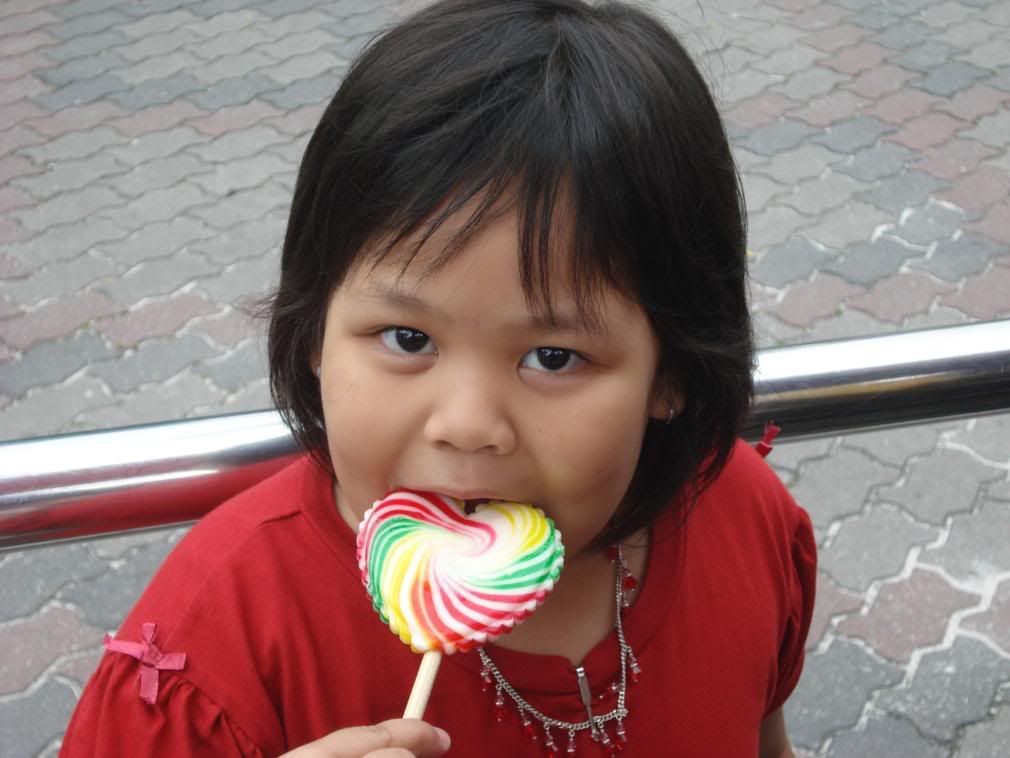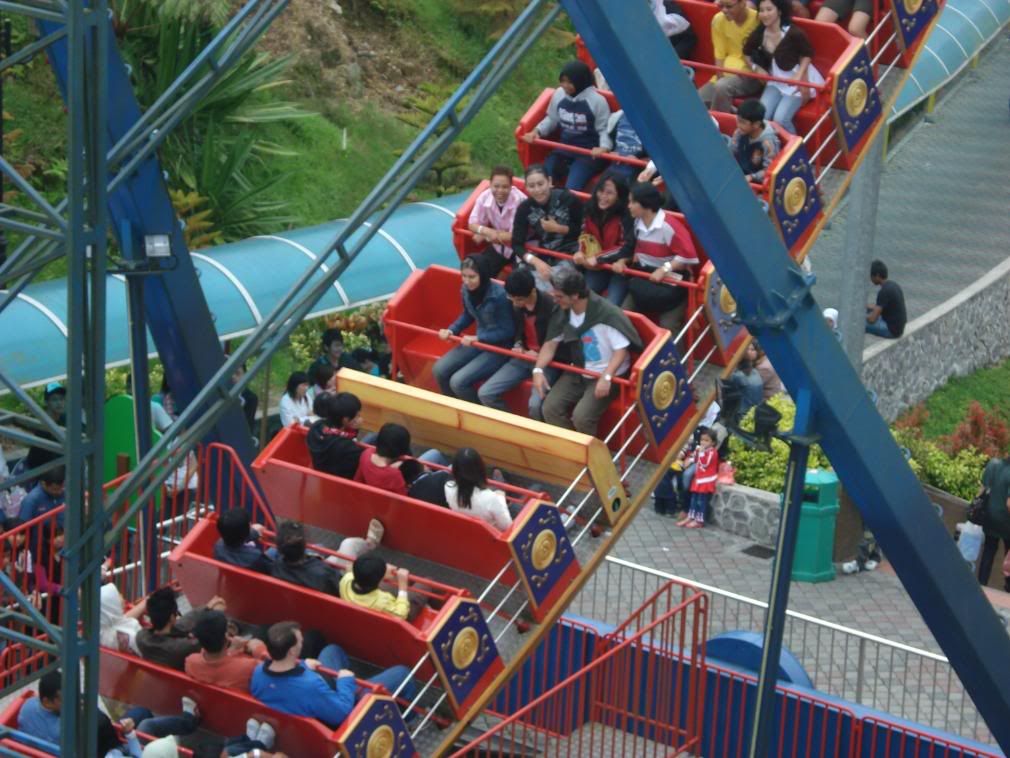 The Pirate Ship.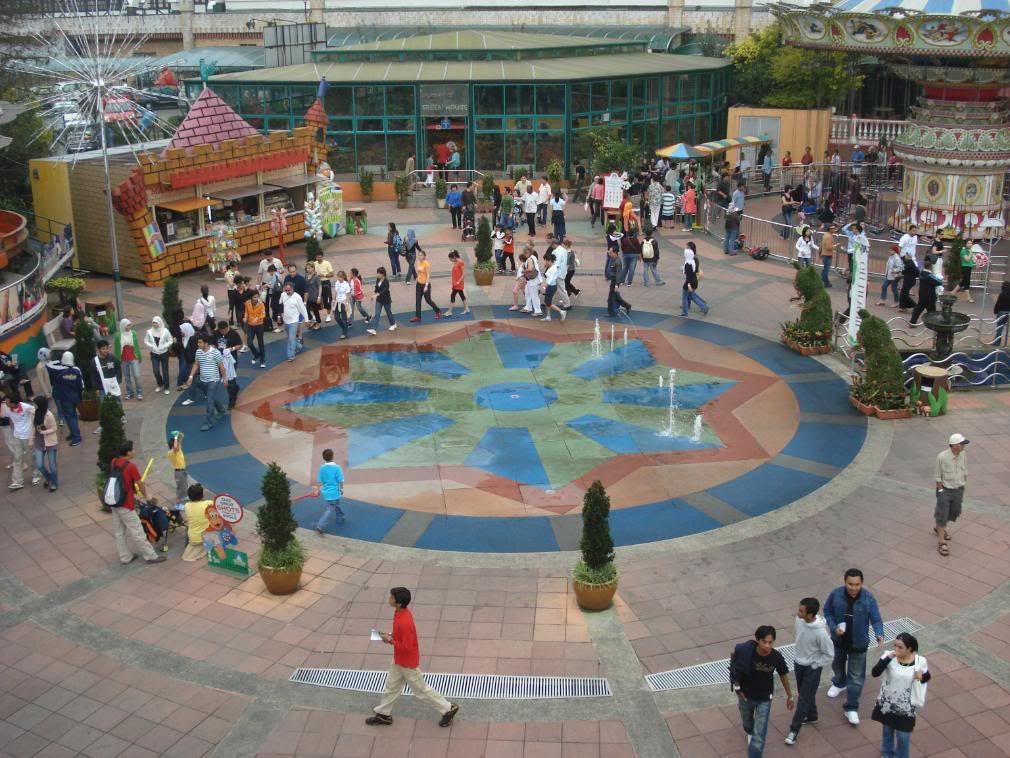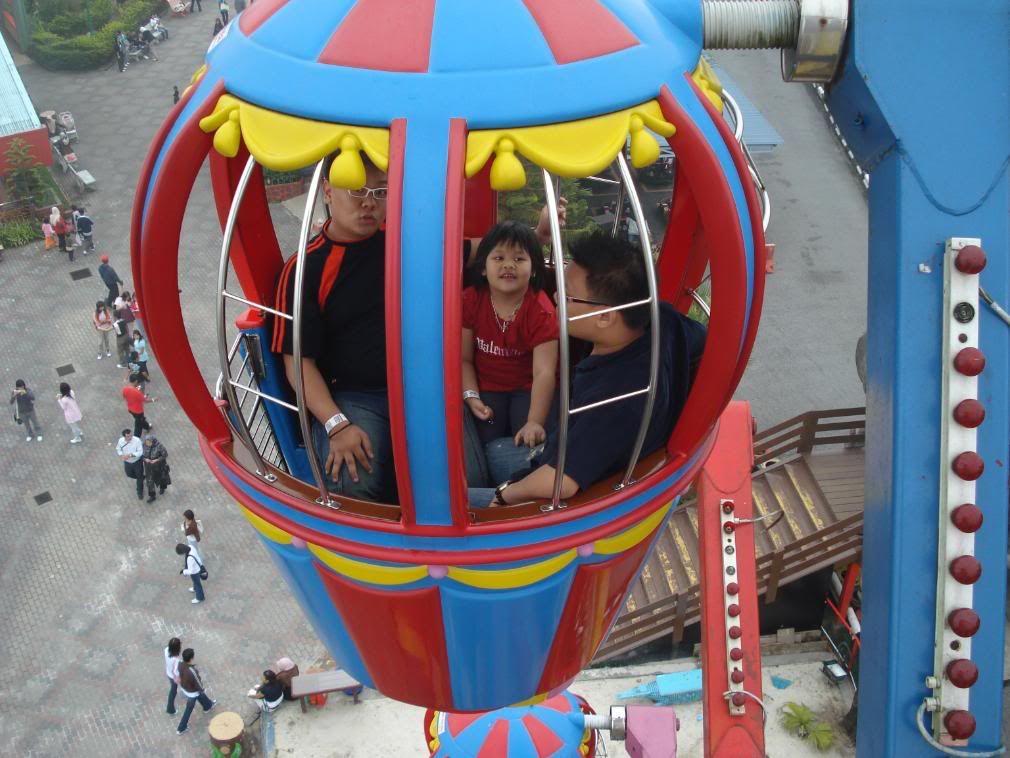 The
Matahari
, merry go round.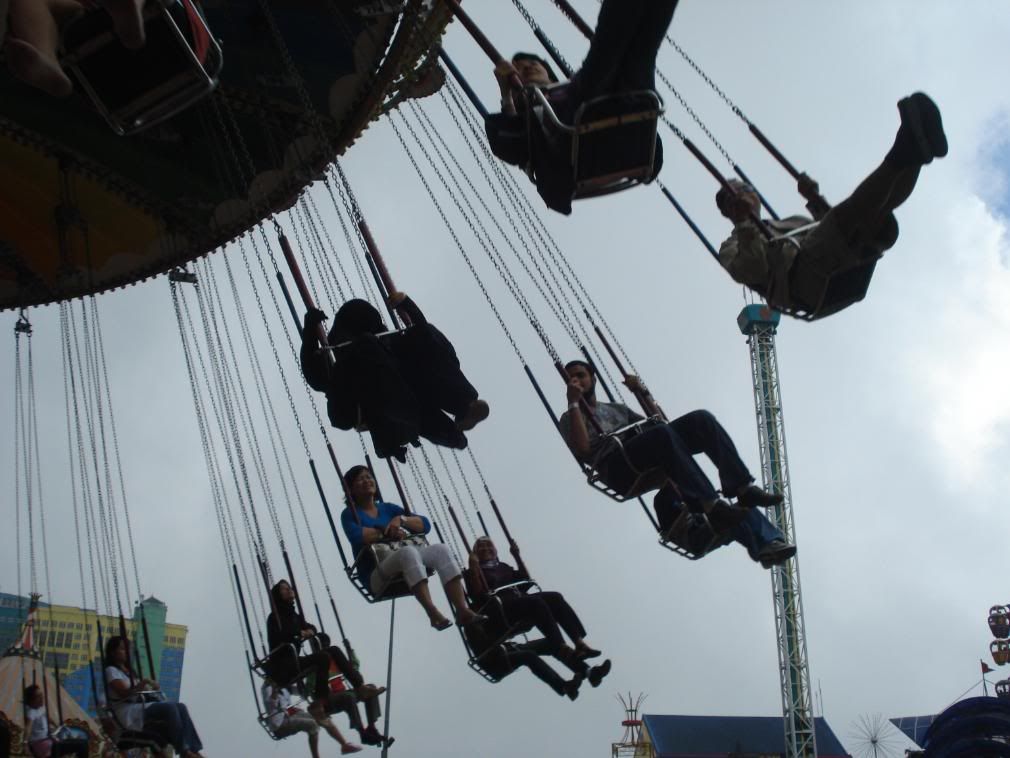 The Spinner, another trill ride.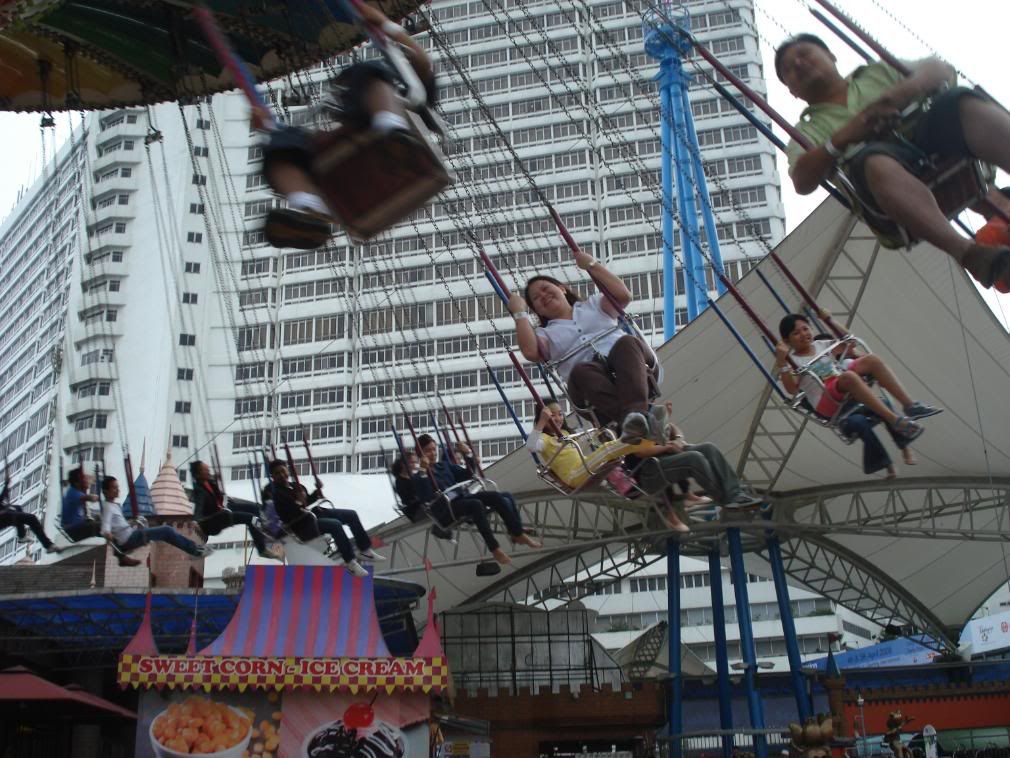 This is call the Flying Coaster. It's
Genting's
signature attraction. You have to pay additional RM10.00 per game.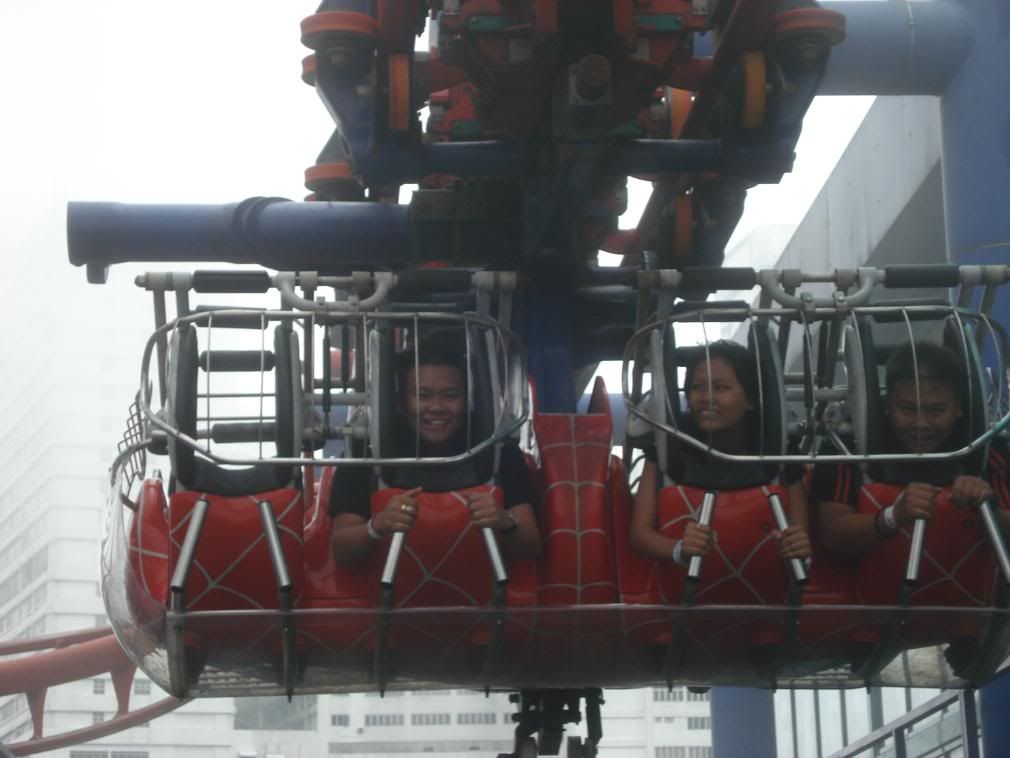 Fun for the children too. This is call Rodeo Rider. I love looking at the facial expression of those kids. Some laugh and play again and again.. while some tears and some cry out aloud..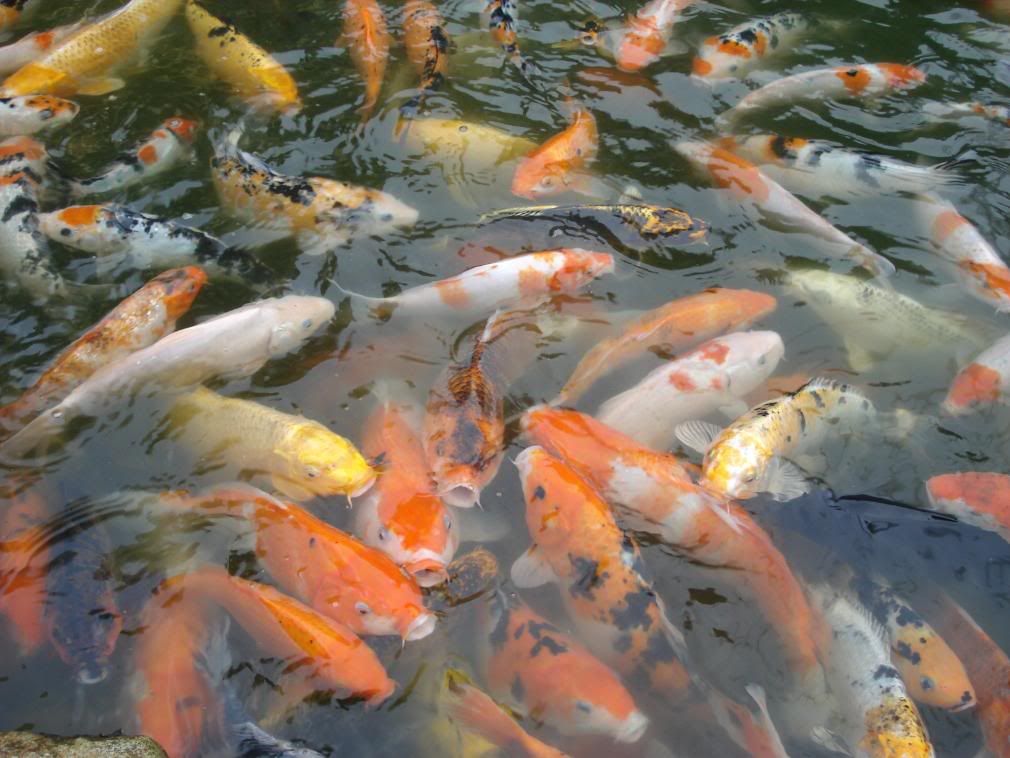 If you want to see more of my photos, please do drop by at my
photobucket
.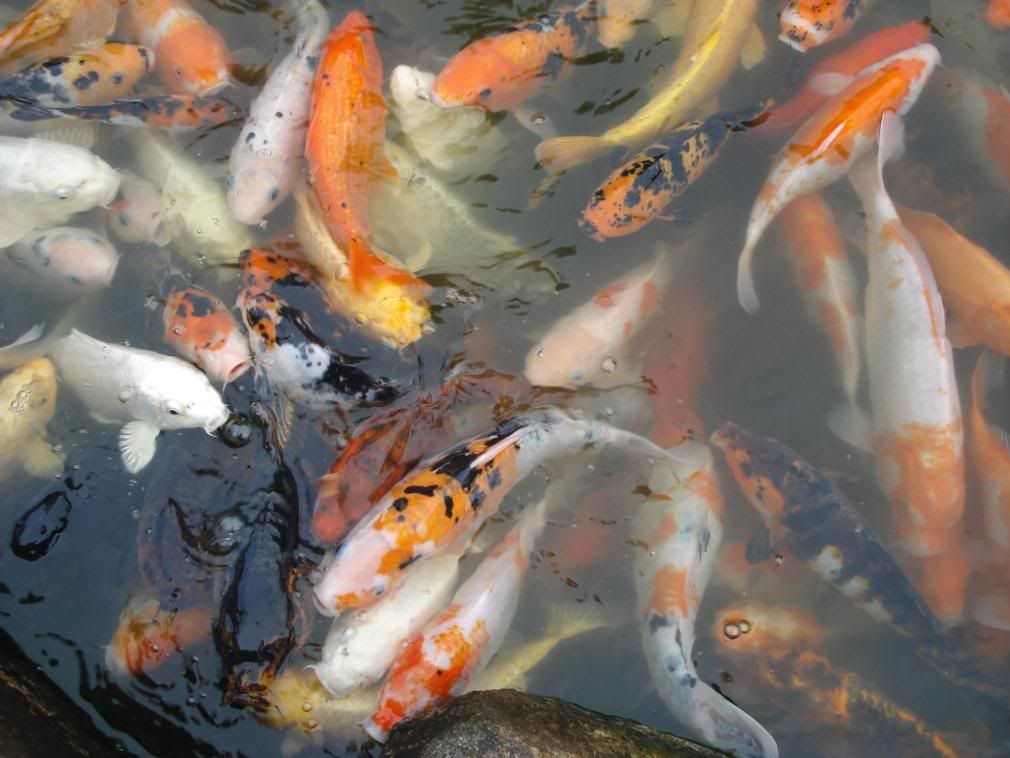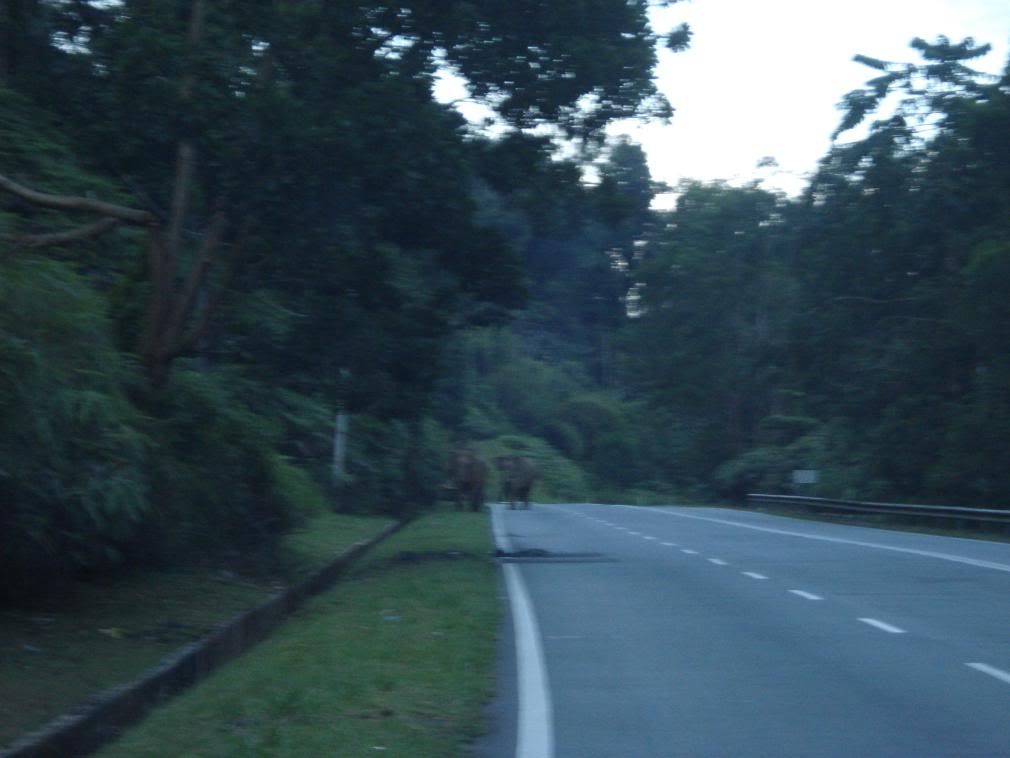 We return home on the next day using the same route where we started. And to share with you, the best photo for the trip ! We got to see2 wild elephants on our return journey along the Banding
Jeli
road. I consider ourselves to be very lucky enough to get to see these elephants as I used to hear some travellers talking about seeing wild elephants on their journey using the same road.
Anyway, this is the second time I saw the elephants somewhere near here as my previous one was during my fishing trip at
Pulau
Banding during the night.